---
2022 & 2023 Ongoing Program
$900/mo | $30/day
Visitors must plan to be on-site for at least 7 days to be considered for this program.
Availability varies depending on program openings, courses and events. Please fill out an application or send an inquiry regarding dates.

Looking for something more in-depth or long term?
>> Check out our

internship program

instead. <<
---
---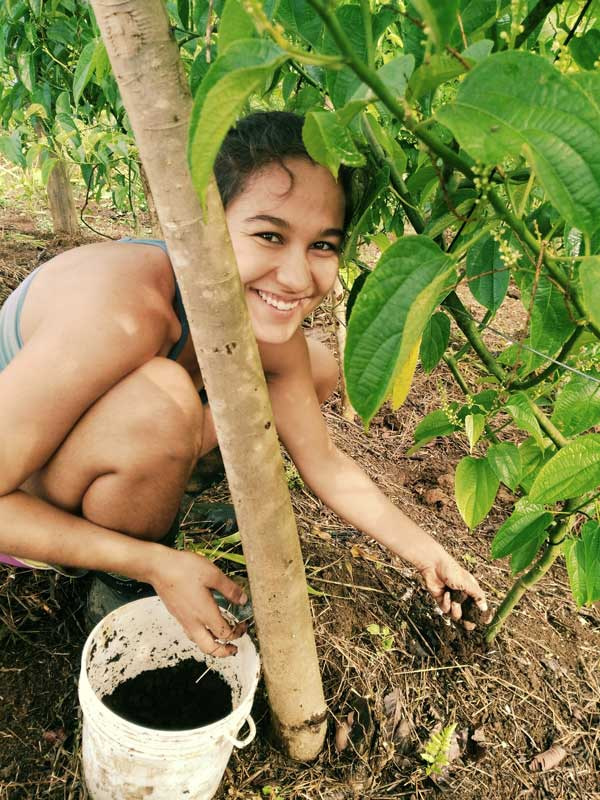 Join us for an inspiring, fun, educational, and immersive experience at our regenerative farm and developing ecovillage in Costa Rica!
VerdEnergia's Jungle Living Experience ("JLE") program runs nearly year-round and has been designed to complement our Internship program. JLE accommodates visitors whose schedules do not allow them to enroll in our internship program. Jump into an immersive educational path and engage in a meaningful way with the land and people!
Like Interns, JLE participants learn while doing. Come explore a permaculture lifestyle through working collaboratively to engage in and support a farm-based community. Jump in on farm-to-table activities such as food processing, fermentation projects, and cooking community meals. Deepen your knowledge and connection with the land through growing and harvesting food, and share in the responsibilities of daily operations in the areas of hospitality and maintenance.
During your free time, relax in nature by going for a swim in our river, waterfall or spring-fed pool; walk jungle trails; enjoy a view of the scarlet macaw biological corridor from one of our beautiful vistas; do yoga or dance in our studio; make art; play music; or simply relax in a hammock with a good book from our farm library.
Why VerdEnergia?
At VerdEnergia, interns and JLE participants alike experience the decision making process that farms, people, and communities go through to create and live holistically healthy lifestyles. This means that we spend a lot of time in the kitchen, preparing farm fresh and seasonal dishes to enjoy together! Learn to plan and prepare meals for groups from diverse ingredients grown and harvested on-site. Enjoy practicing yoga and mindfulness, outdoor physical work, and relaxation time in a beautiful jungle setting.
These experiences provide participants, especially those coming from a classroom setting, with invaluable hands-on and real-life practice. In addition to the cultivation and harvesting of food, JLE participants have the opportunity to gain a range of horticultural and homesteading skills such as plant identification, nursery management, and food preservation. Verde staff manages three local agroforestry projects in conjunction with Blacksheep, our sister company, with a focus on the production of crops such as turmeric, cacao and tropical hardwoods. Having access to these agricultural projects and the experienced staff implementing them is a huge advantage.
Program Initiatives
Gain experience living and working in a community setting

Develop team-building skills that are useful in a diverse range of situations

Increase self-motivation and accountability

Develop life skills (i.e. cooking, cleaning, gardening, food processing)

Gain skills in effective communication and interpersonal dynamics

Be in a place where you feel supported to explore your interests and share your ideas

Learn about ecology and regenerative farming practices
Jungle Living Experience Includes
Plant walks/harvest explorations of our diverse and developing farm & sister farms

Garden bed preparation and tending of crops

Plant and nursery propagation

Discussions on topics such as Sustainability and Ecological Impact

Farm-to-table food preparation

(fermentation projects,

cooking and cleaning up,

food processing & preservation)

Building and maintenance learning opportunities
Who is this experience for?
This experience is a good match for those who do well sharing space with a group of people, enjoy contributing to a team, and are ready for a quiet rural lifestyle with time to focus on themselves. It's a great match for people who want to hone their team building skills. We offer flexibility for different levels of physical activity. Anyone 18+ is welcome.
Farm Life
VerdEnergia is located in a small rural community in the remote mountains of the Pacific slope of Costa Rica. It is home to an ever-fluctuating mix of guests, interns, staff and community members. There will be times where our farm might only have two or more members on site, and times where we will be bustling with activity! We believe in social cooperation and celebrating diverse ways of living and viewpoints across various cultures. As a JLE participant, you have an important role to take part in the creation of the community feeling at the farm. A few notes:
Community living is integral to our daily operations, and we rely on collaboration and good communication to function as a group. 

Participants should be comfortable living and working together as well as contributing to farm upkeep.

Each member of the farm staff and community has a different job and responsibilities, but we all do our best to work together as a cohesive group.

Our climate is very hot and humid in the main part of the day with occasional hard rains.

There is usually enough internet bandwidth to send emails and whatsapp messages, and not much more.

Anyone in the community is welcome to offer guided activities such as yoga, breathwork, meditation, dance and movement workshops, etc.
Required Participation
Support cook and clean shifts for community meals

Basic tidying of the common spaces and shared sleeping space

Participate in any meetings or cleaning parties scheduled by our program organizers
Check out our Frequently Asked Questions and Community Agreements pages for more information about what to bring and what to expect.
What to Bring
You will need a few items with you for safety and to help you make the most of your experience:
Bright flashlight or headlamp with rechargeable batteries

Biodegradable soap and personal hygiene products

Quick-dry towel or sarong

Lightweight clothing suitable for the tropics (including long sleeves & pants)

Sturdy shoes (There is a place to buy rubber boots in town - or you can bring your own)
Guest Facilitators
Guest Facilitators include people with extensive experience with permaculture, agroforestry, ecovillages, farm to table lifestyle, and green business.
---
Accommodations
Included in your stay is a bed in our shared dormitories. These freshly renovated spaces are screened in, comfortable, bright, and open-air; they include ceiling fans, bunk beds with personal lights and storage shelves. We provide a pillow, sheets and a light blanket. Camping is an option if you want more privacy during certain times of the year (costs are the same), but you will need to bring your own gear and bedding. Please check with us before planning to camp. We also have limited upgrades to our fully furnished, open-air private rooms for an additional cost. 
Meals
Your stay includes all of your meals on site. We are proud to highlight traditional Costa Rican cuisine with a few twists and eat farm-to-table as much as possible. We rotate cooking responsibilities using food that we've grown on our own farm or purchased locally, with a preference for high quality organic. Our typical meals are vegetarian and gluten-free.
All of our animal products come from locally-raised, pastured animals. Reasonable accommodation for vegans and those with food allergies can be made. Please indicate your needs in your application and upon your arrival.
Transportation & Travel
We are in a remote location that requires you to coordinate your arrival with the team onsite. Transportation on and off the farm must be arranged in advance and isn't included in your program costs. Please note that we are about a 2.5 hour drive from the SJO Airport.
People that come for longer stays often choose to take trips away from Verde to explore Costa Rica and its incredible natural and cultural diversity. It should be understood that any trip off the farm is separate from our program; you would pay for your own expenses off site. And because we have an ever-fluctuating number of guests, students, interns and visitors, we can't guarantee your accommodations here will be the same upon your return.
Pricing & Timeline
In addition to the cost of the program, Jungle Living Experience participants are responsible for buying/bringing personal supplies like flashlights, work gloves, boots, etc. Participants are also responsible for the costs of personal transportation to and from the farm, as well as housing and food when off site. Please take note of our refund policies and our Frequently Asked Questions.
We offer our program for $900/month or $30/day.
This all-inclusive experience includes lodging in our shared dormitories, meals, and staff facilitation.
We ask that visitors plan to be on-site for at least 7 days to be considered for this program.
Upgrades to private rooms are +$30/night
Scholarships
If you can, please give an additional amount to our scholarship program. Scholarships allow people to attend who would not otherwise be able to and benefits everyone from an increase in diversity of experiences. The suggested scholarship contribution is on a sliding scale of $50-$400.
As a community that values equality and diversity, we offer the ability to apply for partial or full scholarships, and we give preference to candidates from the following categories. Please contact us for more information!
Costa Rican citizens who intend to use what they learn in our course to help Costa Rica's environment and people. 
Environmental and community building activists or grassroots organizers, especially those working in the global south and/or with marginalized communities. 
Applicants that are from historically marginalized groups, such as indigenous/First Nations peoples and people of color. 
Applicants with a particularly compelling reason why they will add something special to the group, as well as financial need.
Interested? We'd love to host you!
---
>> Or consider a more immersive experience through our

Internship program.

<<
---
With the principles of Permaculture as our guiding tool, we seek to transmute the challenges facing our communities into replicable solutions. Our work enables us to find right livelihood through the regeneration and gentle cultivation of the forest we are honored to call home.